5 Steps to Start a Blog (and Grow it into a Business) During College
Alumni Guest Post by Ryan Robinson '12
September 24, 2019
We can all agree that college is an exciting time—from the first semester till the very last day, there's so much you learn and experience about life, people and yourself.
Do you know what one of the best ways to capture those experiences is? Learn how to start a blog to both document your time in college and begin laying the foundation for your future career.
Apart from the fact that blogs are a great way to express yourself, they also contribute to building your own personal brand, which is a valuable asset to have going forward. What's more, is that you never know when this personal blog (or Instagram account) of yours may actually turn into a real business that has the potential to grow in the years to come.
The blog I started almost ten years ago during professor Niklas Myhr's Internet Marketing class has become the business I'm now working on full-time. And it all began as a simple destination where I wrote about my experiences working on side projects and learning about marketing as a college student.
Wondering where to begin with starting your own blog while you're still in college? It's not as complicated as it sounds. Here are the five critical steps to starting a blog and growing it into what can eventually become a full-on business.
1. Pick your blog's name and get it online
The name of your blog tells readers a lot about who you are, the topics you're blogging about, if they'll resonate with your message and even more.
It's estimated that there are now over 500 million blogs on the internet. Therefore, it stands to reason that it'll take some effort to truly stand out from the crowd. Especially if you hope to write blog content that people will actually want to read for the long run.
First things first. You'll need to do some research on the industry and topics you plan to write about. Take time to discover other prominent bloggers in your industry. Find out what's working for them in terms of clever blog names in this space. Answer questions like:
How are they branding themselves?
What kind of names are they choosing for their blogs? Any trends stick out?
How are their readers responding to their work?
As you go through the examples within your blog niche, determine what kind of blog you want to create. How is your blog going to be different than everything else that's out there?
You want a blog name that's unique. So if you're having a hard time thinking of a name, try using a domain name generator that can give you clever ideas and available variations of the words that are still open to be registered today.
Getting your blog online
While there are plenty of free options for getting your blog online and starting to test things out (on platforms like Tumblr, Medium and Blogger) any of these free platforms will come with heavy restrictions on the design and monetization capabilities of your website.
I recommend using an affordable web hosting company like either Dreamhost or Bluehost to get your blog online for just a few dollars per month—because they're both affordable, quick and secure. Web hosting is your blog's home base online, which makes it one of the most important investments in starting a successful blog.
Another major upside of choosing a website hosting company like Dreamhost or Bluehost, is that they'll also make it easy for you to design your blog using the world's most popular (and free) website builder—WordPress. There are thousands of free resources, tutorials and video walkthroughs already out there on creating a website with WordPress, which makes it the go-to blogging platform today.
2. Design your blog (with free themes and tools)
Imagine landing on a cluttered blog, filled with tons of distracting fonts and colors—there's no way you can remain engaged or even begin to read it. This is why having a well-designed blog is so important, because it plays a critical role in engaging and retaining readers.
As a beginner blogger, I strongly recommend setting up a self-hosted WordPress site for your blog. You can download one of the many thousands of great, free WordPress themes and you'll be off to the races.
The best blog designs are those that are clear, simple and easy to consume. Apart from how your blog looks, it is also important to ensure it works well across different devices and browsers. Always make it a point to test how mobile-friendly your blog is before going live.
If you're starting a WordPress blog, you'll want to leverage a few of the best plugins the platform offers, in order to add additional functionality and make your blog come to life.
While there are a wide number of plugins and tools available, here are 5 must-have WordPress plugins to install from the time  you start a blog:
3. Write your first blog posts
Once you've got a name for your blog and have dialed in the design, it's time to generate some blog post ideas and move into actually creating content.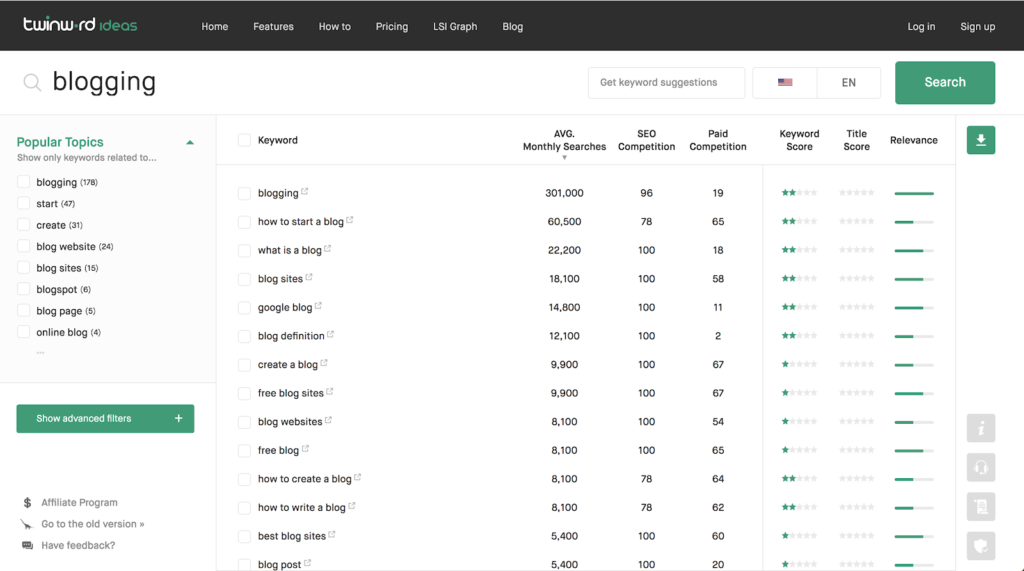 Start with doing keyword research using a free tool like Twinword Ideas and learn how much demand there is for the keywords people are searching for within your niche. Make a note of all the topics and ideas you come up with, grouping similar ideas together.
Maintain an editorial calendar where you can plug in your blog post topics along with the keywords you're targeting and set a deadline for posting each article. This helps you approach your blog in an organized, thoughtful manner.
These are the key elements of what it takes to write a blog post that effectively delivers value to your readers and communicates clearly:
Compelling headlines that attract clicks
SEO-friendly URL
Engaging introduction to hook readers
Visually appealing (using images, videos, infographics and other visual elements)
Easily readable and scannable
4. Promote your content and generate traffic
After all the hard work and effort you put into creating your content, you'll want to spend even more time in promoting that content and driving traffic to your blog. This is where the fun really begins.
Here's how you can drive in new visitors and grow your blog readership:
Share your blog content on the social media channels that best suit your niche and audience interests (like Instagram, Pinterest, LinkedIn, Facebook and Twitter)
Engage with people in Facebook and LinkedIn groups, on Quora and in Reddit threads by providing value related to your blog niche
Guest blog on other relevant sites that already have an existing readership
Get featured in email newsletters of other (more established) bloggers in your space
Network with other bloggers and collaborate with them on social co-promotion
5. Monetize your readership
Blogging requires an investment of time and effort. While monetization shouldn't be your number one priority when you're just starting off, it certainly needs to be a long-term goal if you want to build a business behind your blog.
Making money from your blog becomes easier when you first spend quality time at consistently sharing valuable content, building a relationship with your readers and forming a community around your blog. Those are the prerequisites.
Let's take a look at how you can monetize your readership once you've started to hit your groove as a new blogger:
Sell your expertise (writing, designing, social media management, public relations, etc.)
Accept sponsored content from brands, companies or individuals who want to reach your readers
Create and sell an online course, eBook or other digital product for your audience
Join high-quality advertising networks and sell ad space on your blog
Become an advocate through affiliate programs for the tools you love using
Sell a physical product, dropship an existing product or build a software tool
Over to You
Launching a blog is exciting and full of new learning opportunities, but growing a blog to profitability is no easy feat. It requires creativity, consistency, the willingness to experiment and a whole lot of patience.
It's important to listen to your early readers and observe how they engage with your content, because at the end of the day—it's all about giving them a compelling reason to come back to your blog and continue consuming what you're creating.
Follow these five essential steps to starting a blog, driving quality traffic and eventually growing your blog into a profitable business. For an even more in-depth tutorial, check out my ultimate guide on how to start a blog.
Ryan Robinson graduated from Chapman University in 2012 with a degree in business administration entrepreneurship and finance and a minor in leadership. Today, the Chapman alumnus is a blogger, podcaster and  'side project aficionado.' Connect with Ryan on LinkedIn and find other alumni in your industry via the LinkedIn Alumni Search tool. 
Links: Many of the above links are managed by organizations other than Chapman University. Always use caution and your best personal judgement when disclosing your personal information. These links are being provided as a convenience and for informational purposes only; they do not constitute an endorsement or an approval by Chapman University of any of the products, services or opinions of the corporation or organization or individual. Chapman University bears no responsibility for the accuracy, legality or content of the external site or for that of subsequent links.